DDA
SMART Digital dosing pumps are the next generation of variable speed micro-processor controlled metering pumps.
1:3000 or 1:1000 turndown ratio
PVC, PVDF, Polypropylene & 316 SS materials
Modular construction with removable wall mounting bracket, and side or front control positions
Stepper motor driven with universal power supply (1×100-240VAC, 50/60 Hz)
Reliable dosing of fluids that off-gas (sodium hypochlorite, etc.)
NSF approved
Feed rate setting range: (+/-1% repeatable accuracy through entire adjustable range)
| | | |
| --- | --- | --- |
| DDA 7.5-16 | | 0.0006 to 2 GPH @ 232 PSI |
| DDA 12-10 | | 0.0031 to 3.1 GPH @ 150 PSI |
| DDA 17-7 | | 0.0045 to 4.5 GPH @ 100 PSI |
| DDA 30-4 | | 0.008 to 8 GPH @ 60 PSI |
The DDA model is the pump for complex and demanding applications where the focus is on maximum process reliability. In addition to an extended capacity range and a turn-down ratio of up to 1:3000, it boasts patented sensor technology to measure and verify flow, in addition to pressure monitoring. The AutoFlowAdapt feature on the FCM version can will correct the actual feed rate to match the pump's set point. The package for industrial applications is rounded off by additional operating modes such as a week dosing timer and new functions such as auto deaeration.
Scalable control input signals (up to 1:3000 turndown ration) to meet the widest flow rates in one model.
Slow mode to improve the max viscosity up to 2500 CPS
Profibus ready (field retrofittable)
Three variants allow for different degrees of monitoring & control:

DDA AR : Automatic or manual control with a relay outputs
DDA FC : AR + Flow Control for flow verification
DDA FCM : FC + measurement to verify and measure flow. Pump will auto-adapt so actual feed rate matches target feed rate.
---
DMH
Robust design
Repeatable accuracy: +/- 1%
Turndown: 1:10 with stroke length adjustments, not including frequency control.
Performance range:
0.07 to 2 x 278 GPH (up to 1052 l/hr)
Max pressure:
145 to 2900 PSI (see technical data)
Manual or 4-20mA stroke length control
Duplex option for doubled capacity
Standard diaphragm protection system on all pumps
Integrated frequency controller on select sizes (4-20mA input/output, pluse, remote start/stop – DMH AR)
Double diaphragm leak detection
Internal relief valve
Optional explosion proof motors
API 675 option (contact Grundfos for details)
Material options:
Liquid end
PVC
PVDF
Polypropylene, 316SS,
Hastelloy C
Gaskets:
Control variants:
DMH-B
Basic manual control (Or remote control with a variable frequency drive)
DMH-AR
Automatic frequency control + alarm relay
DMH-AT5
Electric actuator with servomotor – Automatic (4-20mA) stroke length control
Processes:
Boiler feed water
cooling and process water treatment
raw water purification
chemicals for ion-exchangers
supplementary water treatment
effluent water neutralization
dosing of ammonia
hydrazine
phosphates in high-pressure areas (boiler feed water)
lubricant dosing
corrosion inhibition
antiscalants
additives & catalysts
odor control
dosing of flammable liquids
Applications:
Power generation
Oil & Gas
Refineries
Pulp and paper industry
Textile industry
Food and beverage industry
Industrial process water and waste water treatment
Drinking water treatment
---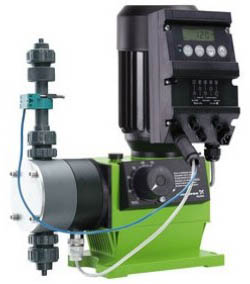 DMX
Robust design
Repeatable accuracy: +/- 1%
Turndown: 1:10 with stroke length adjustments, not including frequency control.
Performance range:
0.07 to 2 x 278 GPH (up to 1052 l/hr)
Max pressure:
145 to 2900 PSI (see technical data)
Manual or 4-20mA stroke length control
Duplex option for doubled capacity
Standard diaphragm protection system on all pumps
Integrated frequency controller on select sizes (4-20mA input/output, pluse, remote start/stop – DMH AR)
Double diaphragm leak detection
Internal relief valve
Optional explosion proof motors
API 675 option (contact Grundfos for details)
Material options:
Liquid end
PVC
PVDF
Polypropylene, 316SS,
Hastelloy C
Gaskets:
Control variants:
DMH-B
Basic manual control (Or remote control with a variable frequency drive)
DMH-AR
Automatic frequency control + alarm relay
DMH-AT5
Electric actuator with servomotor – Automatic (4-20mA) stroke length control
Processes:
Boiler feed water
cooling and process water treatment
raw water purification
chemicals for ion-exchangers
supplementary water treatment
effluent water neutralization
dosing of ammonia
hydrazine
phosphates in high-pressure areas (boiler feed water)
lubricant dosing
corrosion inhibition
antiscalants
additives & catalysts
odor control
dosing of flammable liquids
Applications:
Power generation
Oil & Gas
Refineries
Pulp and paper industry
Textile industry
Food and beverage industry
Industrial process water and waste water treatment
Drinking water treatment